Kavad - The Traveling Shrine
A Beautiful Box of Tales from Rajasthan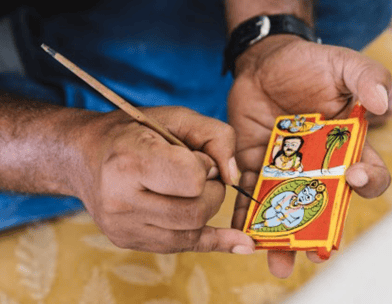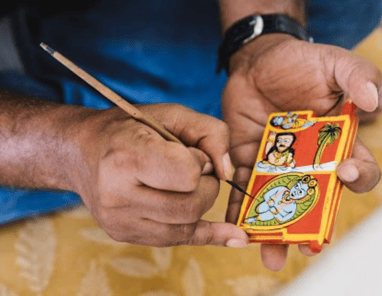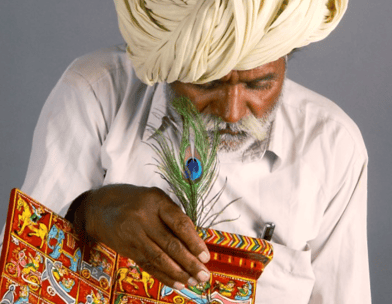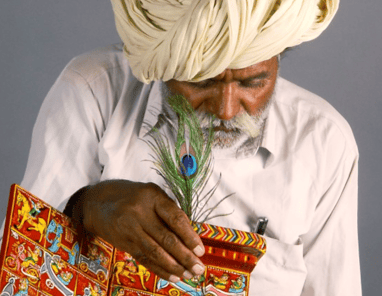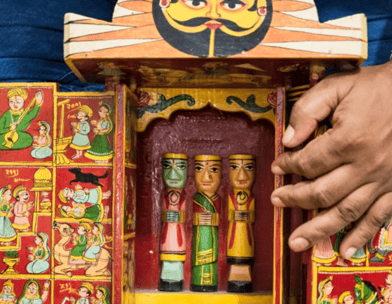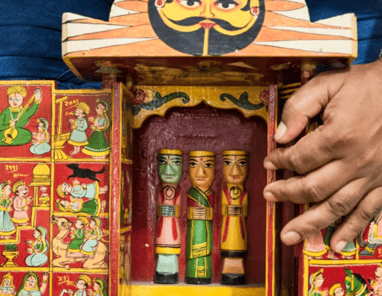 Pic Courtesy: Dastakar Haat Samiti on Google Arts and Culture and Craftingnuru.com
Kavad is a unique and beautiful tradition of painting stories in a box - making it a traveling temple, and a mobile story-telling device. A 500-year old art which is native to the village of Bassi in Chittorgarh district of Rajasthan, it takes three skilled artisans to make one Kavad masterpiece –the carpenter (suthar or sutradhar), the artist (chitrakar) and the storyteller (kavadiya bhat).
This art form - both ceremonial and sacred at the same time - was patronised by the local aristocrats and nobles (known as Jajmans) during religious festivals, cultural celebrations and auspicious ceremonies. Kavadiya Bhats would take the Kavad and narrate rich mythological stories to their patrons, and receive donations in return.
They would also travel from village to village, where audiences would turn into pilgrims during the highly engaging story-telling sessions. Kavadiya Bhats were also traditional genealogists who played the twin role of a storyteller. They narrated family histories through intricately painted family charts on the colourful panels, and played a vital role in preserving family history for future generations.
Believed to be the descendants of Lord Vishwakarma (the divine architect of the Universe), the Kavad making community (Suthar) use the wood of Mango or Semla trees to fashion the multi-doored wooden wonders. Earlier, the main base colour was red, but now Kavad come in a variety of colours - brightly hued with natural colours and mineral pigments.
Traditional themes include scenes from Ramayana, Mahabharata, Shiva Purana, stories of Sri Krishna and Lord Vishnu, local divine deities, revered saints and other sacred personages. A Kavad box would often have 'stories within a story' painted within it – with each story getting unveiled as the masterful Kavadiya Bhat opened its many doors.
Kavads can range in size from as small as 10 cm to as big as 3 feet tall. While the closed doors usually depict a pair of celestial guardians (dwarpalas) with motifs such as lotuses and tigers, the central panel or inner shrine (sanctum sanctorum) contains the main deity. The Kavad box usually has a top panel depicting the Sun God (Surya Bhagawan), as part of its design. The doors of the Kavad box can be many - from a simple Kavad having just two doors, to a large Kavad with 10 doors!
Today, Kavad artists also create Kavad boxes on contemporary subjects such as educational and learning aids for children (e.g. Kavad boxes that teach the letters of the alphabet or depict a nursery rhyme), or as souvenirs (smaller Kavads that can be easily carried home), and customized Kavads for home decor.
To know more, please view this video by Asian Paints.