Ganjifa - The Royal Cards
Regal Art from Maharashtra, Gujarat, Odisha, Kashmir, Rajasthan and Mysore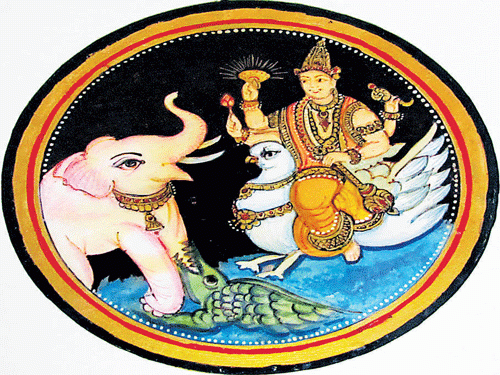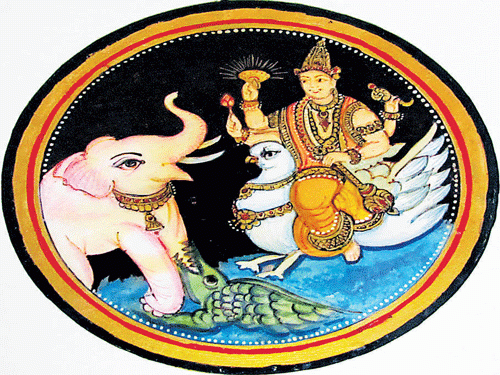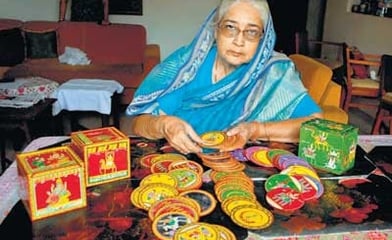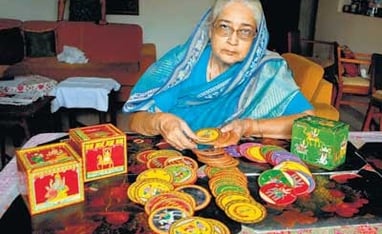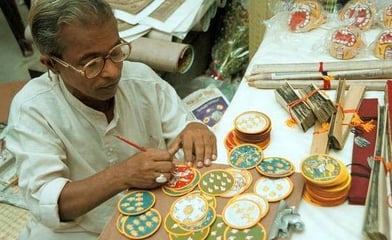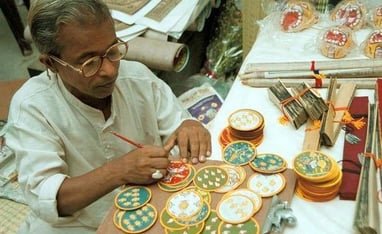 Pic Courtesy: Deccan Herald, Konkankatta.in and The Hindu
While the exact origins of Ganjifa are unclear, it is widely believed that the ancient card game of Ganjifa originated in Persia (Ganjifeh or Ganj means 'Treasure' in Persian), and the Mughals brought this exquisite card game to India in the sixteenth century. Another school of thought is that the ancient game of 'Kreeda Patra' widely played in ancient India received the name of Ganjifa during Mughal rule.
Hand-painted with rich miniature art, and often circular or rectangular in shape, these cards were very popular among the various princely states, where it was a favoured past time alongside polo, pigeon-flying and dice. The cards were painstakingly created with materials such as sandalwood sheets, precious stone-inlaid ivory, or tortoise shell with silver leaf and gold enamel etching - making them truly opulent and luxurious. These cards were then hand-painted with motifs of animals, birds, famous warriors and kings, the 12 signs of the zodiac, divine beings, etc. As they grew in popularity, the artisans also started painting on wood, cloth and palm leaves to make the art form more widely available.
The earlier version of Ganjifa was a 96-card game with eight suits, each depicting a function of the royal court, such as the crown, the treasury, the armoury, the mint and so on. Over the years, several variations were introduced that eventually led to 120 cards.
Depending on the materials used, Ganjifa cards were categorized into: Darbar Kalam (for kings, nobles and other royalty), and Bazar Kalam (for general public). Ganjifa cards were hand-painted using natural colours extracted from minerals and vegetable dyes, and the brushes were made using squirrel hair, which lent the artists exemplary precision for fine detailing.
Multiple historical references can be found on the artistic game of Ganjifa, such as Baburnama (the memoir of emperor Babur), and Ain-I-Akbari - a book written by Abul Fazl Allami during emperor Akbar's reign. When Edward Terry visited India in the first quarter of the seventeenth century, he saw Ganjifa cards often during his travels.
Over the centuries, multiple Ganjifa art styles have flourished in different parts of India - E.g. Sawantwadi Ganjifa (Maharashtra), Odisha Ganjifa, Rajasthan Ganjifa, Gujarat Ganjifa, Kashmir Ganjifa, and Mysore Ganjifa (Karnataka). While the earlier cards had paintings of animals, birds, warriors and people; over a period of time, the cards also became a devotional art with themes such as: Dashavatar (ten incarnations of Lord Vishnu), Navagraha (nine planets), Pancha Pandavas (the five Pandava princes), Mahabharata, Ramayana, and other great epics.
This beautiful and ancient game today is in crisis and near extinction. Despite having all but disappeared from the public imagination, dedicated communities of artisans still are striving to keep this beautiful card-making craft alive. To prevent the art from dying and to spread knowledge about Ganjifa, the Chitrakatha Parishath in Karnataka released a book in November 2019 titled 'Splendours of Ganjifa Art.' Similarly, under the patient and determined patronage of Rajmata Satwashila Devi Bhonsle, erstwhile queen of Maharashtra's princely state of Sawantwadi (a two-hour drive from Dabolim), the artists of Sawantwadi have preserved and revived this beautiful art.
To know more, please view this video by Better India.